The above pictures are before an after pictures of the underside of a commercial roof that was insulated with our Barrier Pro Insulation Coating. The building is approximately 35,000 sqft. HEI Barrier Pro Insulation was used throughout entire building. Client wanted ceiling area to be black in appearance. HEI tinted the Barrier Pro to black and applicators properly prepped the substrate, and then sprayed Barrier Pro on the underside roof surface. Barrier Pro Insulation coating can be tinted to most colors for aesthetic appearance, while providing superior insulation.
The above pictures are before and during application of a commercial roof top, that Barrier Pro Insulation coating was sprayed on. The client elected to go with the base white color. The total square footage covered with HEI Barrier Pro was 28,000 sqft. Project is complete, and the customer already states, they notice immediately, that the inside building temperatures were drastically reduced and seldom turns on A/C. When the A/C is on, it runs for a short period of time in the morning and maintains set temperature throughout the day. Client states that with comparing there energy bills from the smaller facility they use to occupy and now the current new facility they occupy, their Energy bill is 50% to 60% less with the new building being double the size of the older building they moved from. Now that is money saved!!! This building is in Southern California (Los Angeles).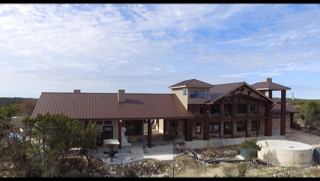 Above Pictures are of an Estate Home that is currently under construction. HEI's Super Insulating coating is being use exclusively throughout this entire Estate Home. Main House is approx. 9,000 sqft and the pool house on the Estate is an additional 2,000sqft. This current Construction is taking Place in Texas (USA).